Orders
To order any of my products please Email Order details to me and I will reply with a price including shipping to your address. We can then agree on payment methods with Credit Card , Paypal and Direct Deposit all available.
You can also Phone me to discuss your requirements.
Standard Workbench
Price: $1420 for plain bench with no vises.
Sawn timber to build with $420
Dressed timber to build with $660
Dimensions : 1800mm long x 750mm wide x 950mm high.

"The bench is the heart of the workshop, it should be strong and have a reliable flat top"
I have decided to use plantation grown and sustainable Hoop Pine (auraucaria cunninghami) for my benches. While a bit lighter and softer overall it is still very suitable for workbenches.Easier to work for people to build their own benches and I will be making it available in kit form for people to use.This will come with a plan of my simple bench or may be cut to suit your own plan.Timber can be supplied as sawn or dressed finished ready to glue together.
Different bench lengths and heights can be made by request.
Aluminium Bench Vise 200mm.
Price: $550.00
Taken some development time but the new Aluminium Bench Vises are here. Built from high grade Aluminium this new vise is designed with a silky smooth action supplied by a completely enclosed 5/8 inch 6TPI Acme thread and all built around an adjustable dovetailed slide. They have virtually zero racking and effortless power. Jaws are 200 mm wide and the opening is 150 mm. Very easy to install and utilising the front edge of the bench as the rear jaw to keep work flush with the bench edge.
These are completely Australian Made and I am very happy with the results.They are really a joy to use with very little effort required to clamp securely which is why the handle is so short.You can close it with a thumb and forefinger grip.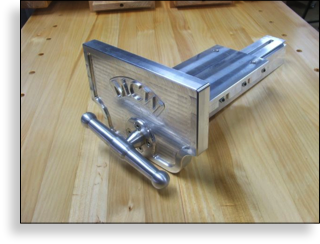 Rosette and Circle Cutter
Price: $150.00
This new tool has been designed for the inlaying of Rosettes in guitar and ukulele soundboards. It can also be used to cut the sound hole straight through the soundboard. Circular patterns can be inlaid into boxes or furniture as well.
It comes supplied with 3 HSS blades for this purpose.Blade height adjustment is set with a height block which acts directly on the blade.
Diameters can be easily set and repeated with the adjustable centre pivot pin moving on a sliding dovetail mount.
Being hand powered and small in size it allows an uninterrupted view of the work to enable very delicate work to be undertaken in a calm and quiet environment.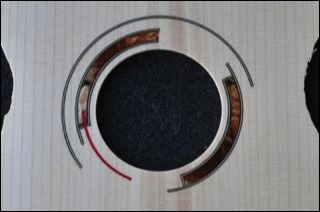 Shooting Boards
Price : $130.00

Please specify Right or Left handed when ordering.

These small 90 Deg. Shooting Boards soon become indispensable as a bench accessory. The ease of shooting end grain means perfect joints and small boxes are now possible.
With a sharp and finely set plane , end grain shavings one thousandth of an inch are easily repeatable. This means very accurate fitting of components. If your part needs one more shaving to fit perfectly this can be done quickly and accurately without clamping.
Simply hold the timber against the fence and the shooting board guides the plane - it's that simple.
Long grain joints can also be jointed with a shooting board. Straight and square edges are easy and quick which makes your glue ups easier.
45 Deg. Mitre Shooting Boards
Price : $140.00

After many prototypes the Mitre Shooting Board is finally resolved. It will cut 45 deg. mitres for both small boxes (up to 125mm deep ) and samll picture frames. These are accurately trimmed with a sharp plane and a mitre shoot. Both left and right hand mitres are possible (eg. : moulded picture frames ). It also suits both left and right handed users and wooden or metal bodied planes can be used. These need to have a blade of 50mm wide.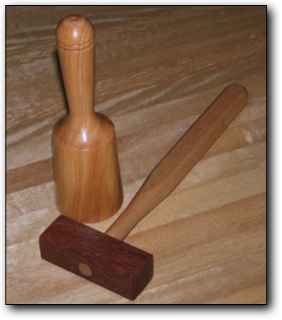 Mallets
Prices : Wooden Mallet - Ironwood/Gidgee $50
Wooden Mallet - Speciality timbers $65
Carving Mallets - Suitable hardwoods $65

The long handled mallet is designed for adjusting wooden hand planes but is also handy for many other light jobs around the bench. Great for tapping in dowels and closing dovetail joints. Weight is 180Grams approx.
The carving mallets are hand turned in my shed and are designed to stand upright between uses. As well as for carving I use one of these mallets for bench chisels when they need to be hit. These are made from well seasoned recycled Australian hardwoods.
Aluminium Straightedges - Anodised
Length Prices:
300mm - $65.00
450mm - $75.00
600mm - $90.00
750mm - $110.00

Whether checking your work or setting up a jig or machine it is important to the best reference you can. Straightedges are used as a known reliable reference for checking plane soles and other flat or straight surfaces and for marking out jobs.
These Straightedges are made from high grade tempered aluminium and Anodised for a tough surface to resist wear. Hand finished to within .025mm ( 0.001") over their length on both sides.They have one edge bevelled to make it easier for some operations. They are wide enough to stand unsupported while you make some machine adjustments and have 2 holes to allow attaching a block for better support or hanging them for storage when not in use.

Aprons
Price $45.00
100% cotton apron made by Marie Connor (mum). Available in charcoal colour with an adjustable neck strap, large front pocket and MCW logo on the top pocket.